In the not too distant past, you could be sure that any rack would fit just about any bike. But with standards evolving so fast in recent years, producing a "one size fits all" design has become an increasingly difficult task.
Still, it's an issue that Topeak has tackled head-on, with the Uni Super Tourist leading in compatibility, compared to the racks I've tested. This makes it a solid choice for anyone who wants to avoid any frustrating surprises when setting up – and for those who want to keep their options open for swapping between bikes.
Build: Topeak Uni Super Tourist Rack (Disc)
The Uni Super Tourist is made from 6061 T-6 hollow aluminum, with the welding and finishing maintaining a high quality throughout. Compared to others I've tested, the Uni Super Tourist is much sturdier in construction, scratch and abrasion resistant than others don't.
The rack is equipped with adjustable legs to "fit most 24″ to 29″ wheel mountain bikes and 700C touring bikes with disc brakes". The chrome-plated stainless steel arms, meanwhile, flex accordingly to meet the mounting points of the bike frame.
Additionally, the TX QuickTrack® plate is compatible with any Topeak MTX TrunkBag (Topeak has a wide range) or MTX rear basket (there are two). I had no problem installing my own panniers or the ones I tested.
At the rear, there is a plate for mounting a fire, the layout being compatible with a Topeak Redlite, unsurprisingly.
The path
Picture 1 of 2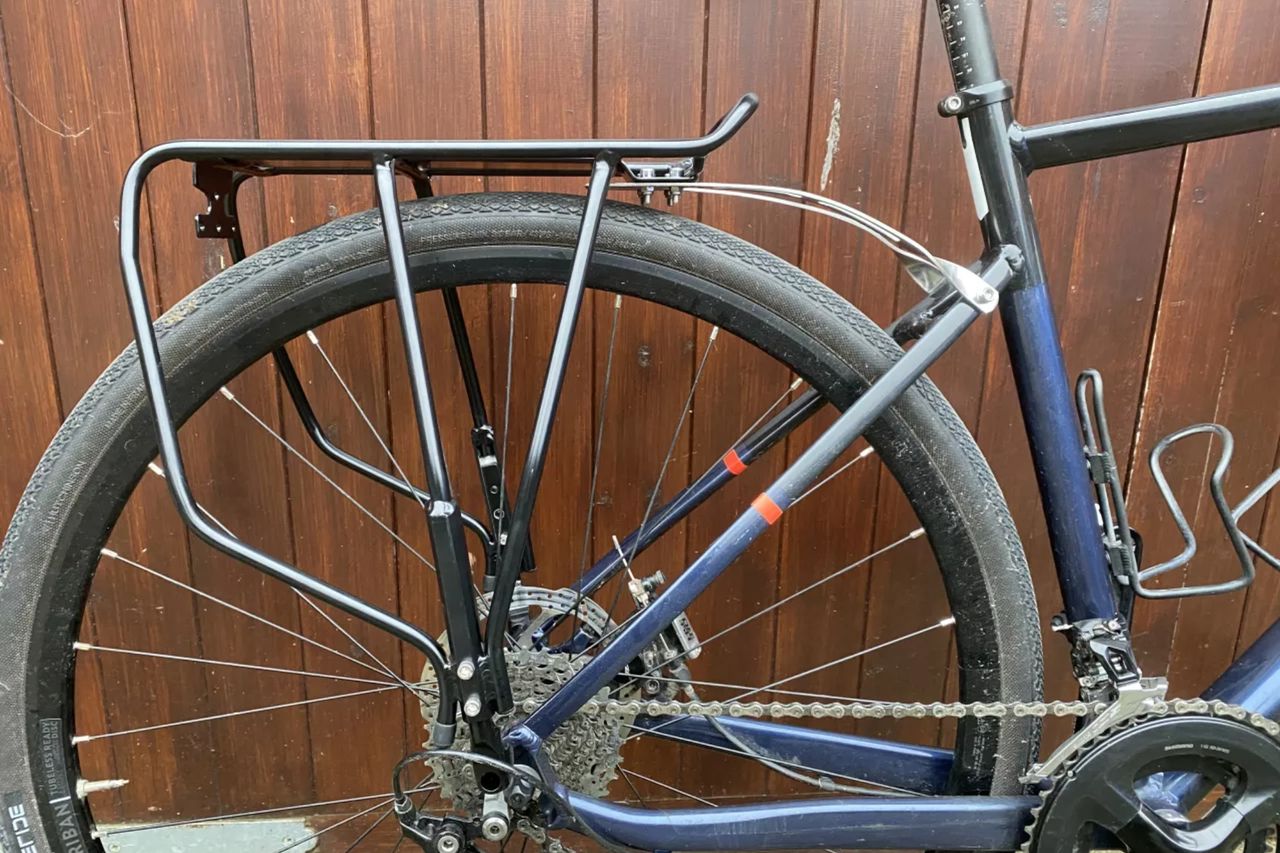 Picture 1 of 2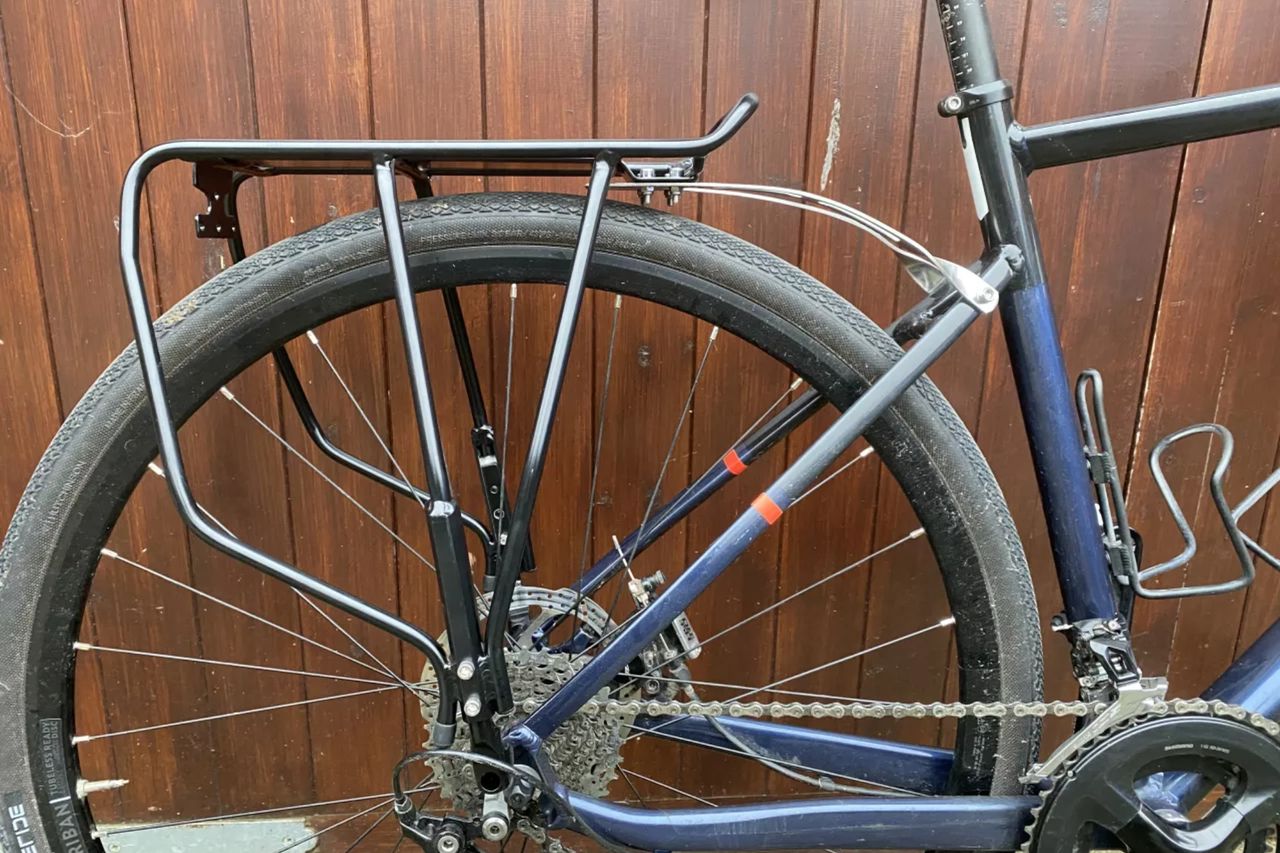 Mounting the rack is intuitive and doesn't take long. I've had the Uni Super Tourist on and off several bikes with no problem, you can see it in the pictures above mounted on a Triban RC520 and a Whyte Clifton ER7.
The rack is set to its lowest height on the Triban, fitted with 700 x 32c tubeless tires. On the ER7, it's still on the lowest height setting, with 700 x 40c tubeless tires, plus a substantial mudguard.
Considering there are two other height settings I haven't used – and plenty of arm length to play with – there's plenty of room for bigger tires and smaller frame sizes, which makes clearance issues of little concern. At the other end, with 26-inch touring wheels, you may end up with a significant gap between the rack and the rear wheel – but at worst, it would just be a cosmetic issue.
Image 1 of 4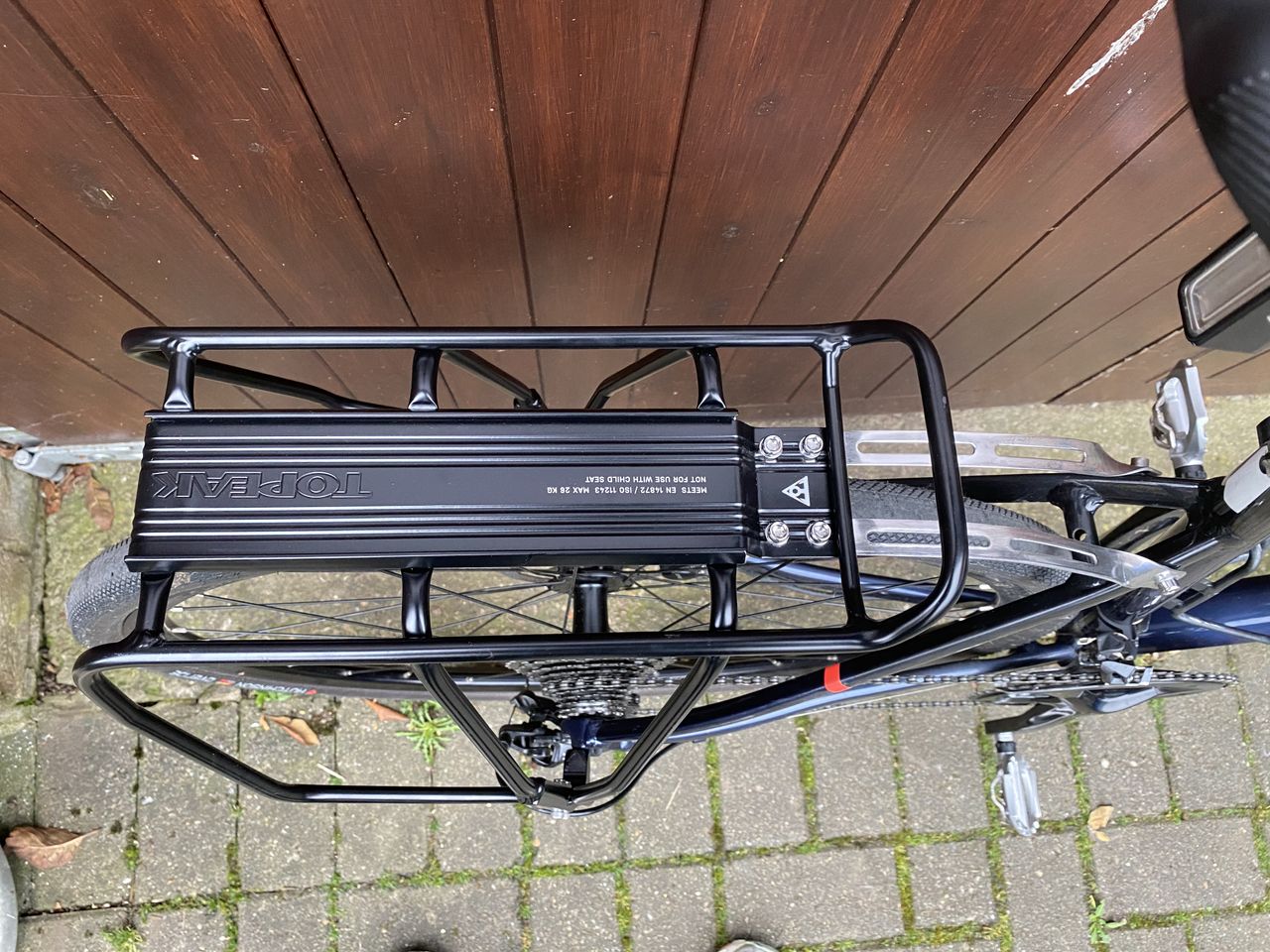 Image 1 of 4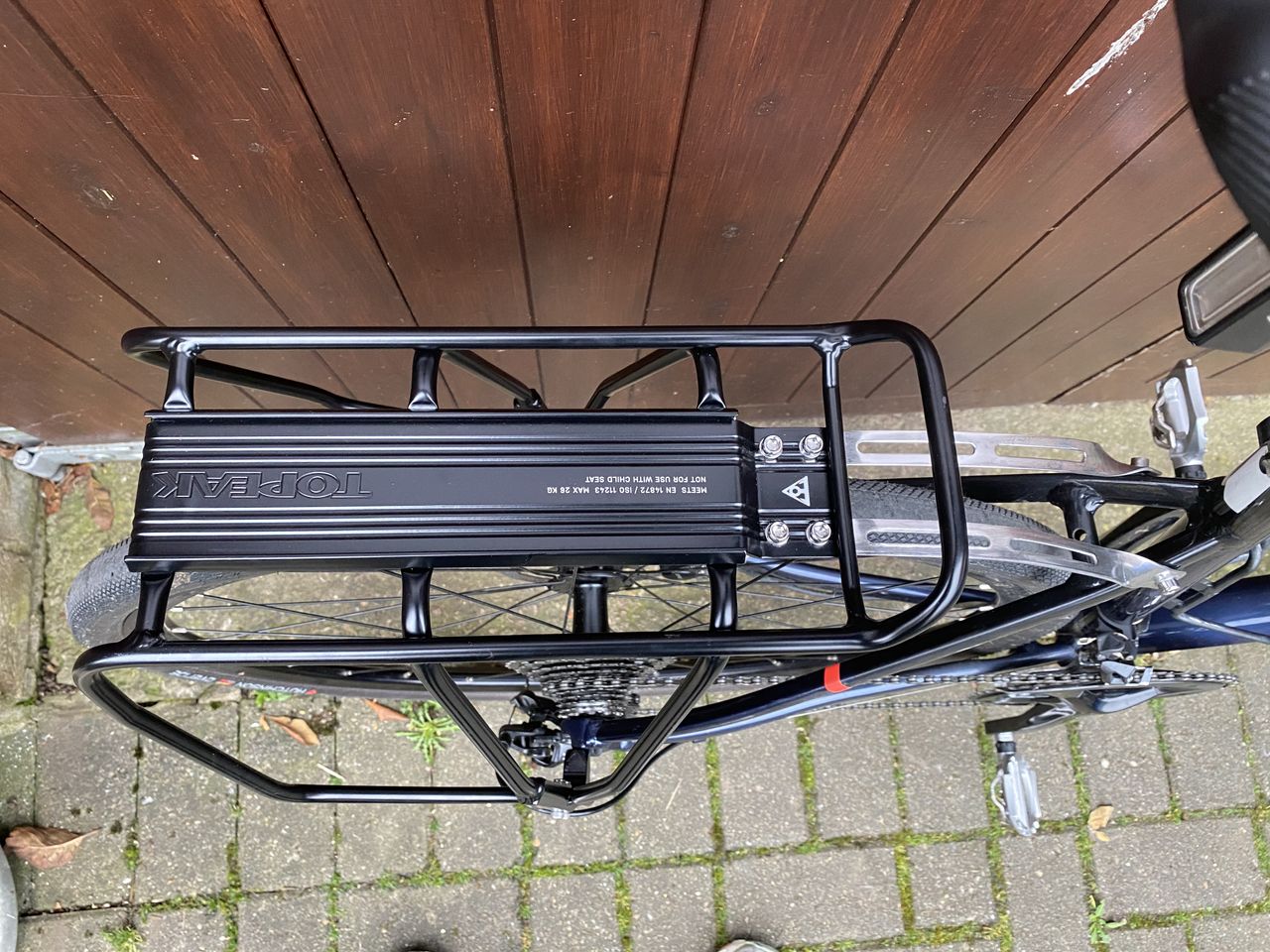 I haven't tested any of Topeak's compatible luggage systems, but had no problems attaching a whole range of panniers to the rack – including items from Ortlieb, Cube, Altura, Chrome Industries, Brooks and standard Topeak panniers.
Many saddlebags come with adapters for the attachment points, providing a more secure fit and reducing the risk of abrasion. Otherwise, a little electrical tape can extend the aesthetic life, if desired. The rack looks smooth and feels sturdy and durable. Although I didn't use any bands during the testing period, there were no abrasions to note, which is pretty impressive.
The 26 kg capacity adds to the versatility of the rack; it is not limited to daily commuting and can easily be replaced by a touring bike. I felt confident charging it during city errands, with heavy purchases causing no concern.
If you happen to ride without a mudguard, the plate provides some degree of protection from road spray. Although it's not huge, it's definitely better than an 'open-top-rack' design.
Value and conclusion
At £44.99/$73.49, the Topeak Uni Super Tourist fairs compare well to other brands with a similar reputation for quality. Blackburn's Ex 1 costs £54.99/$54.95 and Tubus' Disco has an RRP of £135.99/$135.99, although that might not be a perfect comparison; it is made of steel, so it is likely to last longer and is also repairable.
The ease of assembly, combined with the deserving "one size fits all" label, makes it easy to recommend the Uni Super Tourist. It's a competitively priced option for anyone looking for a versatile, well-made rack.
Specifications
Attachment: Frame support patterns
Equipment: 6061 T-6 Hollow Aluminum
Compatibility: MTX TrunkBags / MTX Rear Baskets
Maximum weight capacity: 26 kg / 57 lb, Complies with EN 14872 / ISO 11243
Added features:

Includes mounting bracket (26.5 cm)
Adjustable length, solid fender top
RedLite® bracket, taillight bracket

Cut: 41 x 34 x 25cm /1 6.1″ x 13.4″ x 9.8″
Weight: 820g / 1.81lbs
Height adjustable:

Shorten: 339 mm (±3 mm)
Middle: 359mm (±3mm)
Longest: 379 mm (±3 mm)